About one hour of the curbside trash collection routes for Monday, March 22 was not completed, mostly in the Monponsett Street neighborhoods. Trash for these areas will be picked up on Tuesday, March 23 along with the areas that are normally picked up on Tuesdays.
Recycling Center Open with Modified Hours/Specific Protocols
The Recycling Center hours are:
Mondays - 5:00 PM - 8:00 PM beginning on July 20
Wednesdays - 10:00 AM - 1:00 PM
Saturdays - 7:30 AM - 12:30 PM
For your Safety and the Safety of our employees the following rules apply to all:
No walk-ins allowed.
Everyone in vehicle must be wearing a mask.
We will empty your vehicle.
Do not leave your vehicle; no one can walk around the Recycling Center property. NO EXCEPTIONS
Recycling should be in the back of the vehicle to avoid as much contact as possible
No cash- Checks only NO EXCEPTIONS
Bulk and metal items will be removed from your vehicle at the outside containers
Swap Shed and Book shed are closed, and will remain closed indefinitely
Boy Scout Collection of nickel deposits is closed, and will remain closed indefinitely.
The Recycling Coordinator at the Recycling Office will continue to perform her duties and be present to assist you via telephone (781-293-1732) or e-mail [email protected] during normal business hours from Monday to Thursday from 9am to 2pm.
The deadlines the monthly Bulky Waste Curbside Collection registration are available.
Regular curbside collection of trash and recycling will continue as scheduled. Please use this method for your normal recycling.
If you need special assistance or if you have any questions or concerns, please contact the office at 781 293 1732.
The re-start of the "pink bag" pick-up service through Simple Recycling began in late July 2020.
Tie Up Town Trash Bags
Waste Management, the company that provides the Town's curbside trash collection service, has requested that you properly tie-up your Town trash bags. As we continue to protect the workers who provide vital trash collection service in Halifax during the COVID-19 pandemic, we are kindly asking that you ensure that all trash bags are properly sealed to prevent contents from spilling.
Recycling Fees - Fiscal Year 2021
The Halifax Treasurer-Collector has issued the Fiscal Year 2021 (July 1, 2020-June 30, 2021) Recycling Fee bills. This year's fee is $50 per household. Residents should receive their bills during the next few days. Payment of the fee is due by Thursday, October 1, 2020. Residents may apply for an abatement by completing the abatement form. This form must be completed each year if a resident is requesting an abatement. If a resident is requesting an abatement because the resident is participating in a recycling program run by a private hauler, then the resident should obtain a letter from the private hauler stating that the resident is participating in the program run by the hauler. Most haulers have created a standard letter for this purpose.
The deadline for the submission of requests for abatements is Thursday, October 1, 2020. Requests made after this date will be denied. For more information, please contact the Selectmen's Office at 781-294-1316.
Free Curbisde Textile Recycling Service Coming to Halifax
Beginning July 29th, residents will be able to recycle unwanted textiles and small household items simply by bagging them and leaving them at the curb on their regular recycling collection day. Halifax is providing the new service in partnership with Simple Recycling.  The service is free.
According to the US Environmental Protection Agency (EPA), more than 84% of old clothes, shoes, belts, handbags, and textile items end up in a landfill or an incinerator.  On average, that works out to about 85 lbs. of textile items per person each year.  As a result, textiles make up more than 6% of all the residential and municipal trash in the US.
Solon, Ohio-based Simple Recycling (www.simplerecycling.com) aims to change all that.  The company provides free curbside collection and recycling of unwanted textiles and housewares to communities across the United States.  Currently, Simple Recycling serves nearly two million households across eight states, and will soon be serving residents in Halifax.
Simple Recycling will send informational mailers to homes that receive recycling collection, the mailers will contain free Simple Recycling bags. 
When cleaning out closets or disposing of unwanted items, residents can place them in the bags.  If a resident doesn't have enough bags, then it's OK to use regular trash bags that are clearly marked for Simple Recycling.  Residents can then place the bags at the curb on their normal recycling collection day.  Simple Recycling's trucks will pick them up, free of charge.
The company will accept a wide range of used textiles and small household items.  The list of accepted items includes all types of used or new clothing, boots and shoes, belts and ties, handbags, hats and gloves, toys, towels, sheets and blankets.
The Simple Recycling service is not meant to compete with local charities.  Its' purpose is to provide a convenient curbside collection option for residents who want it.  Ultimately, it's about keeping those items out of the trash.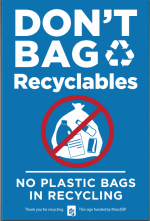 Please do not leave your recyclables in bags in the recycling containers. The Town cannot accept bagged recyclables as the bags cannot be recycled by the Town.
---
Mission Statement
The Town of Halifax runs a residential curbside trash pick-up program. Trash is picked up once a week. Residents must use specially-marked trash bags.
The Town's recycling program picks up recyclables every other week. Recyclables must be in specially-marked containers.
Details on both programs are available through the links listed above.
Staff Contacts
| Name | Title |
| --- | --- |
| Susan Johnston | Recycling Coordinator |
| Robert Patten | Center Attendant |
| Robert Karas | Center Attendant |
| Melissa Hill | Recycling Truck Driver |