COVID-19 Rapid Self-Test Distribution and Information
Posted on: December 18, 2021 - 7:43pm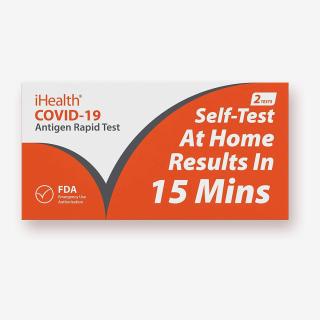 All COVID-19 self-test kits have been distributed. Please continue to monitor our website for more information.
The Commonwealth of Massachusetts has provided the Town of Halifax with a limited supply of iHealth Labs rapid antigen self-tests that will be distributed to our residents free of charge. Tests are available to Halifax Residents with proof of residency. Testing kits may be picked up at the Halifax Board of Health, 499 Plymouth Street or the Halifax Fire Department, 438 Plymouth Street, Monday through Wednesday from 10 am to 3 pm. There is a limit of 2 kits (4 tests) per household.
*Any resident that is experiencing symptoms of COVID-19 should call the Halifax Fire Department at (781) 293-1751, option 3 and the test will be delivered to their vehicle in the parking lot.
**UPDATE 12/19/2021 9:15 am: COVID-19 self-test kits are only available for walk-in pick-ups between 10 am and 3 pm, Monday through Wednesday due to limited resources. Pick-up scheduling by phone is not accepted. We apologize for the inconvenience.
***UPDATE 12/22/2021 10:45 am: All COVID-19 self-test kits have been distributed.
Information about the Tests and Reporting
The tests can be completed by residents at home. Test results are available in 15 minutes and samples do not need to go to a laboratory. People do not need a cell phone or computer for any part of the test. The tests are for any individuals 2 years of age and up, regardless of vaccination status or whether they have symptoms. 
There is no mechanism with these tests to report results and test results do not need to be reported to public health.  However, people who test positive should isolate for 10 days and notify their close contacts that they may have been exposed to COVID-19.
COVID-19 rapid tests are one of many risk-reduction measures, along with vaccination, to reduce the chances of spreading COVID-19.  For detailed information, visit www.mass.gov/gettested.
More information on the test: https://ihealthlabs.com/pages/ihealth-covid-19-antigen-rapid-test-details 
Center for Disease Control's self-testing page: https://www.cdc.gov/coronavirus/2019-ncov/testing/self-testing.html/ 
iHealth Labs OTC Rapid Antigen Test: https://www.fda.gov/media/153924/download